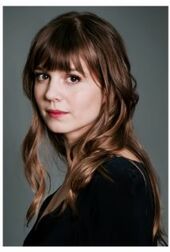 In her home country the Netherlands, Katja has played major roles on screen as well as in the theater.
After quite uniquely being accepted to both the Maastricht and the Amsterdam drama school, she started her film career during her studies at The Academy of Fine Arts in Amsterdam.
She worked with director Alex van Warmerdam in the final year of drama school and had many offers to choose from after graduating. She decided to join Johan Simons' ensemble at NTGent, where she played many different parts on stage, modern to classical, from Elfriede Jellinek to Billy Wilder to Marlowe.
She also met Ivo van Hove through Simons and worked with him on Opening Night (Cassavetes). He later asked her to play the lead in his feature film Amsterdam, which co-starred Marisa Tomei.
Katja comes from a family of classical musicians. Her mother, Vera Beths, is a famous violinist, her father Werner Herbers was solohoboist of the Koninklijk Concertgebouw Orchestra for 40 years. Her father remarried a costumedesigner, who took her along to plays and filmsets from a very early age on. Her mother remarried cellist Anner Bylsma. Having had parents who had to travel so much, Katja had a Canadian au-pair and is therefore bilingual.
She played one of the leads in the Prix Europe and Emmy Awarded Television movie The Chosen, directed by Theu Boermans. They continued to work together on three plays by Arthur Schitzler, a writer of whom they both are big fans. She played his monologue Miss Else under Boermans direction, which got raving reviews and shocked the Dutch Theater world.
Katja also works in Germany at the Munich Kammerpiele, where she plays in German. Johan Simons directed her in Joseph Roths' Hotel Savoy and Alvis Hermanis directed her in Maxim Gorki's Wassa.
Katja has always combined filming with acting on stage. She worked with the Oscar Nominated and Emmy Awarded Director Ben Sombogaart on the blockbuster feature The Storm. Critics raved about her portrayal of the Dutch Princess Maxima in the mini-series Beatrix.
Rudolf van den Berg directed her in the feature film Suskind, in which she played the right hand of Walter Süskind, who helped escape over a thousand children during World War II.
She is currently filming Divorce, a Dutch television series.
Katja lives in Amsterdam, Munich and New York.
Trivia
[
]
Katja is trilingual. Raised by a German father, a Dutch mother and a Canadian nanny, she speaks English, German and Dutch perfectly.
Coming from a family of famous classical musicians, Katja is very musical herself. She sings/acts Schubert and Schumann songs in a theatrical setting with a small orchestra.
Katja won the Guido de Moor Price for her portrayal of Irina in Tjechov's Three Sisters.
References
[
]