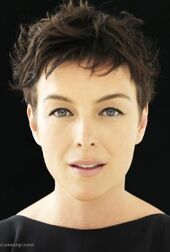 Olivia Williams was born July 26, 1968 in Camden Town, London. She was educated at South Hampstead High School, an independent school for girls in Hampstead, North London, followed by Newnham College at the University of Cambridge. She graduated with a degree in English literature. She went on to study drama at the Bristol Old Vic Theatre School for two years and spent three years at the Royal Shakespeare Company. After having made appearances in several theater productions, her first significant appearance in the made-for-television film Emma (1996), based on Jane Austen's 1816 novel. She made her film debut in The Postman (1997), and went on to play the part of Rosemary Cross in Wes Anderson's Rushmore (1998), Bruce Willis's wife in M. Night Shyamalan's The Sixth Sense (1999), Madeleine in The Heart of Me (2002) (for which she won the British Independent Film Award for Best Actress), and Ruth Lang in Roman Polanski's The Ghost (2010). Her performance earned her ALFS, and NSFC Awards.
Has an English degree from Newnham College, Cambridge.
Practices Bikram yoga.
Went to Bolivia to study bears in the rainforest after she wrapped The Postman (1997).
Her parents are lawyers.
Insists on bicycling to and from the set.
Has worked with Paul Bettany on several occasions, including Dead Babies (2000) and The Heart of Me (2002). Most frequently romantically involved.
Writes occasional travel reports for "The Independent Traveller" - part of The Independent on Sunday [UK] - since 2006.
Father had a heart attack in 2001 while she was filming The Body (2001) with Antonio Banderas.
Had a 4 year relationship with Radek Sikorski (current Minister of Foreign Affairs of Poland).
Has appeared in two movies (The Man From Elysian Fields, The Ghost Writer) as the wife of a man who has hired a ghost writer, whereupon she enters into a sexual relationship with the ghost writer. (Additional parallels would be spoilers).
Gave birth to her 1st child at age 35, a daughter Esmé Ruby Stone on April 6, 2004. Child's father is her husband, Rhashan Stone.
Gave birth to her 2nd child at age 38, a daughter Roxana May Stone on April 7, 2007. Child's father is her husband, Rhashan Stone.
Community content is available under
CC-BY-SA
unless otherwise noted.